Dr Martens celebrated there 50th anniversary last Thursday. The boot was a creation of a guy called Dr Klaus Maertens from Munich and the Griggs an English family who owned a quality footwear company there meeting was through an ad in the classified section of a magazine together they created the Dr Marten. They were called the 1460 after the date they were launched.
The DM has come along way since it humble beginnings as a work boot and has become a must have fashion item and is now seen on models like Agyness Deyn and celebrities like Alexa Chung and Daisy Lowe. I invested in a pair last year and I love them.
Spartoo
have a great selection and I love the valentine rose print ones they are so on trend for the floral prints that are going to everywhere this Summer and will look fabulous teamed with either a maxi dress or a cute playsuit and the pink and white print will work with most floral prints as the print is not overly fussy. They also have an adorable girly pink pair I love the mix of the girly colour with the hardness of the DM boot. Check them out
here
and
here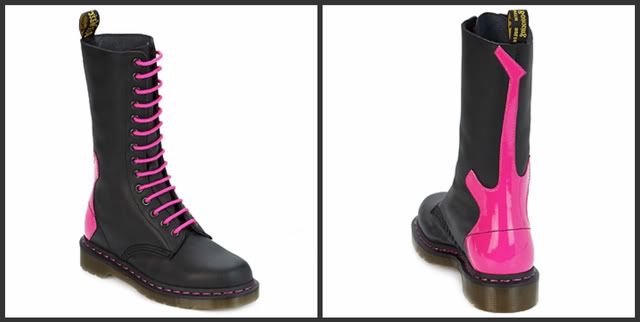 For all you Guitar Hero fans out there how about these gorgeous Guitar Hero collaboration ones check them out
here
and
here
they will look stunning with cut offs and come in black and pink or white and pink. Check out Spartoo's DM collection
here
they have a great selection.