There are so many fabulous boot trends around this season there are the obvious ones like the thigh high boot and shearling lined boot and I mentioned the Chelsea boot come back a while ago
here
and I have also noticed that the cowboy boot which is normally a favoured boot of mine for summer also has a place for fall, but the boot that has caught my eye is the biker boot the sheer hardness and durability of these boots makes them perfect for winter and added with a cute floral dress puts an edgey twist to a girly look and a perfect partner for this seasons chunky knits.
There is a style to suit everyones taste now this pair by Ash is so me. I like things a little more edgey and with those pyamid studs on the uppers these boots have personality.
So these one by Air Step do not really have a classic biker style but I feel they can pass as a biker boot and with those buckles they have a bit of a Burberry vibe about them.
For you more traditional chicks how about these ones by Elite they have the classic biker boot look but the studs on the ankle harness give them a rock chick feel.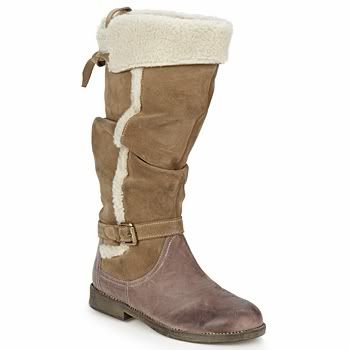 Now for you guys looking for something a little more on trend then these shearling lined ones by Best Mountain are spot on and perfect for harsh snowy winters.
All these boots are available at Spartoo